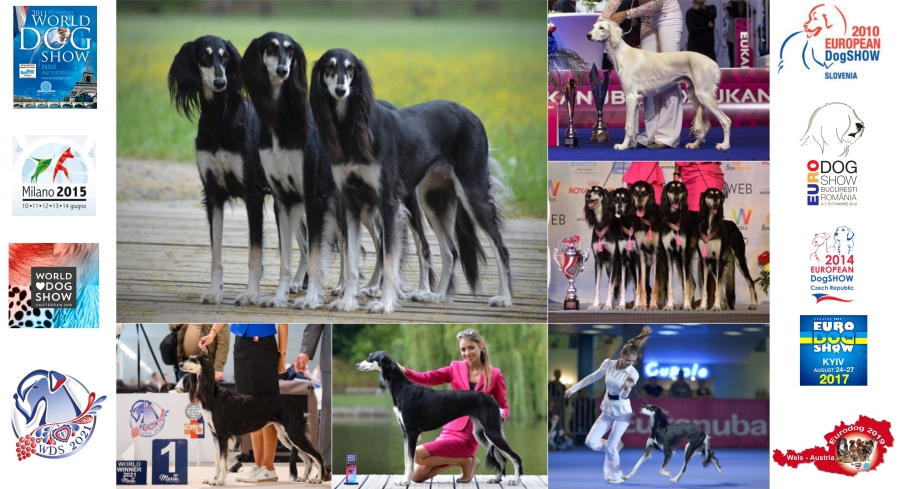 We are proud of our beloved Salukis.
With its own elegance, it participates with great success in the
most prestigious events exhibitions and races.
The title of World Winner
has been awarded to salukis from Czech breeding 3 times in history.
All 3 salukis to whom this title was awarded
are from Al Zahra kennel!
WORLD JUNIOR WINNER 2018
Harmony Al Zahra
WDS Amsterdam, Netherlands, 2018
WORLD WINNER 2021
Gloria Al Zahra
WDS Brno, Czech republic, 2021
WORLD VETERAN WINNER 2020
Carissa Al Zahra
WDS Madrid, Spain, 2022
WORLD WINNER 2021
WORLD VETERAN WINNER 2020 (MADRID 2022)
WORLD JUNIOR WINNER 2018
EUROPEAN WINNER 2019
EUROPEAN VETERAN WINNER 2019
EUROPEAN WINNER 2012
EUROPEAN JUNIOR WINNER 2017
EUROPEAN JUNIOR WINNER 2010
EUROPEAN PROMISSE 2014
BEST OF DAY PUPPY – II. – EDS 2014
BEST OF BREED - EDS 2019
BEST OF BREED & BIG 2 - EDS 2012
FCI EURO SIGHTHOUND JUNIOR WINNER 2010
FCI EURO SIGHTHOUND WINNER 2013
FCI EURO SIGHTHOUND VETERAN WINNER 2018
JUNIOR BEST IN SHOW - 4 - FCI ESH 2010
FCI EURO SIGHTHOUND JUNIOR WINNER 2017
JUNIOR BEST IN SHOW - FCI ESH 2017
BIS CHAMPION OF CHAMPIONS 2010
BIG CHAMPION OF CHAMPIONS 2012
BIG CHAMPION OF CHAMPIONS 2019
DONAUESCHINGEN ANNIVERSARY WINNER 2019
DONAUESCHINGEN ANNIVERSARY WINNER 2018
2x DONAUESCHINGEN JUNIOR WINNER 2018
DONAUESCHINGEN JUNIOR WINNER 2013
BOB & BIS 2 DONAUESCHINGEN 2019
BOB & BIS 3 DONAUESCHINGEN 2018
JBOB & JBIS 3 DONAUESCHINGEN 2018
BOS & res. JBIS DONAUESCHINGEN 2013

22x INTERNATIONAL CHAMPION
INTERNATIONAL BEAUTY AND PERFORMANCE CHAMPION
38x NATIONAL CHAMPION
37x JUNIOR CHAMPION
7x RACING + LC CHAMPION
4x WORKING CHAMPION
4x CHAMPION FOR BEAUTY & PERFORMANCE
8x LURE COURSING WINNER OF YEAR
12x TOP SALUKI OF THE YEAR
20x BEST IN GROUP JUNIOR
42x BEST IN GROUP
2x BEST OF DAY 6x BEST IN SHOW JUNIOR
5x BEST IN SHOW VETERAN
26x BEST IN SHOW BREEDERS GROUP
18 x BEST IN SHOW